Giant Alligator Goes For A Stroll In Florida
A friendly round of golf was interrupted by a hazard (of sorts) this week when a golfer and his friend watched a 4.5 meter alligator stroll through the course.
"We saw someone trying to get our attention, and we thought it was just someone who knocked their ball in to the wrong fairway," Charles Helms tells As It Happens host Carol Off.
"He kept pointing and pointing and pointing and we looked at what he was pointing at," says Helms.
The frantic golfer was trying to warn Helms and his friend about the giant alligator strolling by in front of them.
"We just saw this giant greenish mound," says Helms, "I don't know what it looked like —a hill!"
Helms and his friend were playing at Buffalo Creek Golf Course in Palmetto, Florida. Locals say the giant gator has been there for years and is well known. Helms started filming the monster gator and the video has since gone viral.
Golf course employee Wendy Schofield told reporters that the alligator is like a mascot for the course. And while he is a familiar site, he doesn't bother anyone—and wisely, he's not bothered by anyone else.
"I guesstimated it to be about 15 feet (4.5M), says Helms, "It's just massive! It's bigger than any gator I've seen before."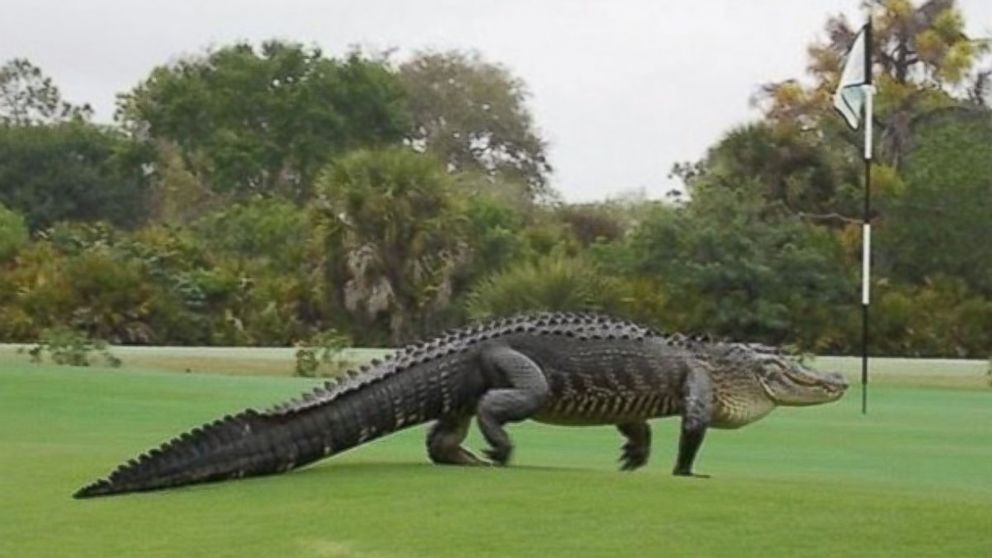 If estimates of the gators size are true, it would be a record. According to the Florida Fish and Wildlife Conservation Commission, the state record for the largest alligator caught is 4.35M.
Helms says he wasn't scared of the reptile, "They're really not aggressive at all, they just want to be left alone and mind their own business."
Here is the detail video: